Boots (who prefers the Spanish version of his name: Botas) is a gorgeous tuxedo that is all sugar, no spice, and everything nice. Really – he is basically perfect. He and his brother Guss are both very loving, happy, cats that may or may not qualify as a bit chubby – but in the best, most adorable way. Botas loves to play chase with his ribbon toy. He is a master pouncer and is shockingly fast! But even more than playing – he loves snuggles and belly rubs.
Botas, as you may have already guessed, is an extraordinary cat: he is bilingual. He and his brother Guss grew up in a Spanish-speaking home. While they do understand English, they seem to prefer Spanish. If you don't believe us – call him "Boots" and then call him using the Spanish version of his name (Botas) and see which one he responds to!
His ideal forever home would be a loving home with his brother Guss where he has a nice soft bed to sleep on, at least a couple of fun toys to play chase with, and someone warm to snuggle up to. Boots and Guss are a bonded pair that grew up together since kittens. Their original adopter suffered a tremendous financial loss due to Covid and was very sad to have to surrender them to our rescue after loving them like her own children for seven years.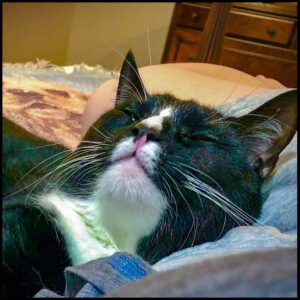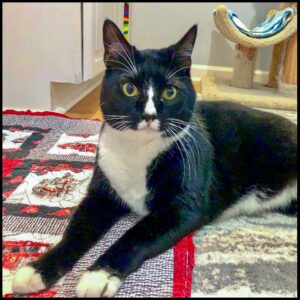 I am bonded with Guss.