Guss (affectionately called Gus-Gus) is a big hunk of tabby love with gorgeous eyes. He loves to be around people and will snuggle with you as long as you let him. He is so soft that you may cancel your plans for dinner. He is not only exceptionally loving and pleasing to snuggle – he also has a special trait: Guss is bilingual. That's right. He and his brother Botas (Spanish for Boots) grew up in a Spanish-speaking home. While they do understand English, they seem to prefer Spanish.
Guss isn't much of a player – he is more of a napper and snuggler. He does like to explore and have fun too, though. He is a healthy, happy guy that will roll around on his back in the morning while waiting for breakfast to be served. He will sit in your lap like a small child, facing forward- and also can be held like a baby. He is about as laid-back and chill as they come.
His ideal forever home would be a loving home with his brother Boots (Botas) where he has a nice window seat to sunbathe and at least one comfy lap to snuggle on. Guss and his brother Boots are a bonded pair that grew up together since kittens. Their original adopter suffered a tremendous financial loss due to Covid and was very sad to have to surrender them to our rescue after loving them like her own children for seven years.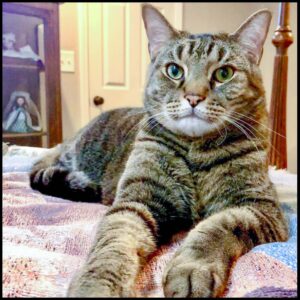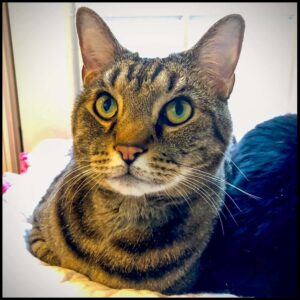 I am bonded with Boots.