Midnight is a handsome tuxedo with gorgeous emerald eyes that stand out beautifully against his soft black fluffy fur and four white paws. This sweet boy is a total teddy bear! He is so relaxed when picked up and loves being stroked and brushed while he lies close or even on your lap! We know this special boy will bring his new family lots of joy and comfort when you need it most!.
Midnight came to our rescue with his best friend Charm looking for a new home because their previous owner had passed away. Midnight and Charm are bonded and must be adopted together. Charm will seek comfort from her buddy Midnight when thunder sounds and you will often find her cuddled up on his belly. These two wonderful cats are in need of a perfect home together. Do you have room in your heart for these sweet cats?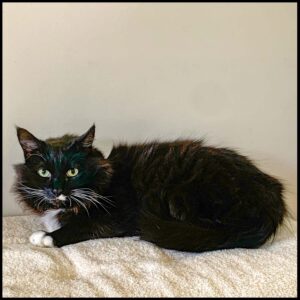 I am bonded with Charm.