Tawny is a beautiful dilute calico kitty who is a sweet, shy girl who has so much love to give, but doesn't trust easily. Once she knows she's in a safe place with someone she can trust, she will come right up to you to ask for pets and will look to you to toss her toys so you can play together.
Tawny and her chosen brother, Drifter came to us when their owner had to move to a senior community and couldn't take them with her. She asked us to find them the best home together and we promised her that we do just that!
Tawny and Drifter are a bonded pair who need to be adopted together. Tawny loves being bathed by her chosen brother, Drifter and she'll even cuddle up beside him for naps. They also love to pick at each other and steal toys from each other during playtime. They've got a playful banter between the two of them and they will fill your home with lots of love and laughter! They would do best in a quiet home with no young children or other pets.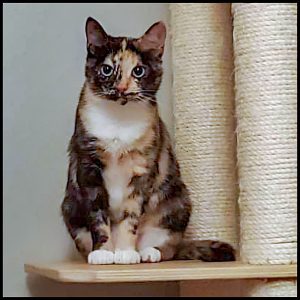 I am bonded with Drifter.